March 29, 2006 Total Solar Eclipse
This total solar eclipse was visible from parts of the Atlantic, Africa, the eastern Mediterranean, Turkey and points northeast of Turkey. Fortunately, the weather was good over most of the eclipse path, and many people witnessed the eclipse! Eric observed and photographed the eclipse at sea at latitude 35° 05' N, longitude 29° 05' E. The total phase of the eclipse lasted for about three minutes and 50 seconds.
Click on thumbnails to see larger versions of these pictures.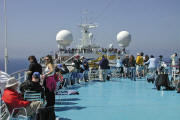 Some of the people waiting on the top deck of the Costa Fortuna for the eclipse to begin. Many people were also out on the larger sun deck below this deck.
This sequence of eight photos shows the progress of the eclipse.
Top row - Partial phases at 1:10, 1:30 and 1:39 PM local time (UTC+3 with daylight time) before totality.
Middle row - diamond ring effects at the beginning and end of totality, with the center photo showing the sun's corona, or outer atmosphere, during totality at about 1:50 PM local time.
Bottom row - Partial phases at 2:01 and 2:09 PM local time after totality.
For complete information about future eclipses, see the NASA eclipse web site.