The last eclipse of the 2nd millennium was a partial solar eclipse visible from North America on Christmas Day 2000. The weather over much of the eastern U.S. was excellent (clear but cold!), unlike what developed a few days later when the big snowstorm hit! Eric had the opportunity to view and photograph the eclipse while visiting family in the historic town of New Castle, Delaware.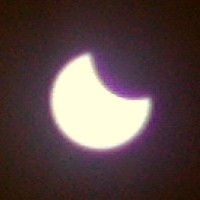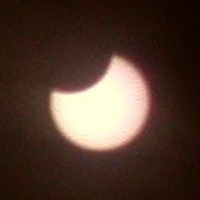 This sequence of three photos shows the progress of the eclipse as seen from New Castle.
Left - 12:00 noon EST, approximately halfway between start of eclipse and maximum eclipse.
Middle - 12:45 PM EST, maximum eclipse, approximately 50% of sun's diameter covered.
Right - 1:36 PM EST, approximately halfway between maximum eclipse and end of eclipse.
Although these pictures are not clear enough to show it, there were several sunspots visible during this eclipse, and one large group of spots just north of the sun's equator was covered by the moon for a period of time. (Which just goes to show that you shouldn't wait for an eclipse to look at the sun if you have the proper safe viewing equipment!)
A Christmas Day solar eclipse is a relatively rare event that won't happen again for over 300 years, but partial solar eclipses were again visible from North America on December 14, 2001 and June 10, 2002. For complete information, see the NASA eclipse web site.
Left - The courthouse in New Castle at 12:53 PM EST in the light of the partially eclipsed sun.
Right - The moon and Venus at 7:58 PM CST on the evening of December 30, 2000, five days after the eclipse, as seen from U.S. Airways Flight 105 enroute from Philadelphia to Seattle.
Click on thumbnails to see larger versions of these last two pictures.