The was the last solar eclipse visible from the northwestern United States (other than Alaska) for several years to come.
The weather over most of the northwestern U.S. was excellent, and Eric traveled to the Oregon coast near Newport to get a good view of the event.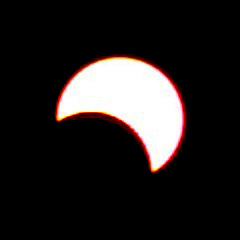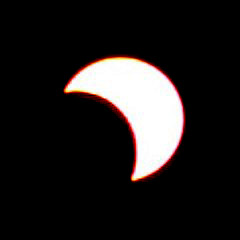 This sequence of three photos shows the progress of the eclipse as seen from Rodea Point along the Oregon coast north of Newport, Oregon.
Left - 5:52 PM PDT, approximately 15 minutes before maximum eclipse.
Middle - 6:07 PM PDT, maximum eclipse, 54% of sun's diameter covered.
Right - 6:22 PM PDT, approximately 15 minutes after maximum eclipse.
Although these pictures are not clear enough to show it, there were two large sunspots visible during this eclipse, both of which were covered by the moon for a period of time. (Which just goes to show that you shouldn't wait for an eclipse to look at the sun if you have the proper safe viewing equipment!)
Although there will be no more solar eclipses visible from Washington or Oregon for many years, the spectacular total solar eclipse of August 21, 2017 will pass directly over Rodea Point as it makes landfall at about 10:16 AM PDT. You can bet that there will be much larger crowds on that day than there were for the 2002 partial solar eclipse. For complete information about future eclipses, see the NASA eclipse web site.
Left - View from Rodea Point on the Oregon Coast. (Lat. 44° 47' N, Long. 124° 04' W)
Right - Bird perched atop Rodea Point sign.
Click on thumbnails to see larger versions of these last two pictures.