The rare transit of Venus across the Sun was the second solar event in only a little over two weeks, but the last transit of Venus visible from Earth until December 10, 2117. Eric travelled to Death Valley National Park (also in California) to watch this event under completely clear skies. Conditions back home in Bend were not so good and only allowed a brief period of visibility for those who stayed in Bend.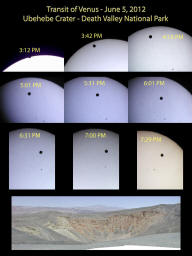 These two composite photos show the progress of the transit as seen from Ubehebe Crater at Death Valley. The transit photos were taken through the eyepiece of a Celestron 8-inch telescope, and clearly show the motion of Venus relative to some sunspot groups. Venus set while still in transit at 7:37 PM PDT, followed by the remaining Sun at 7:39 PM PDT.
Click on thumbnails to see a larger version of these composite photos. Higher resolution versions for printing are available on request.