Click on thumbnails to see full-size pictures.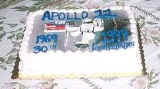 Eric had this cake made for the July 20, 1999 party of the Tacoma-Lakewood Coin Club, which happened to fall on the 30th anniversary of the first man on the moon. The cake was made by Something Delicious bakery in Kent, Washington and they did an outstanding job! Leftover cake was also enjoyed at work the next day.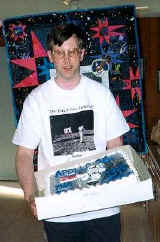 Eric holding the cake, with special Apollo 11 quilt (supplied by a fellow TLCC member) in the background. Eric's "The Eagle has Landed" shirt from the Boeing gift shop shows the same scene depicted on the cake.