The Kingdome in Seattle was demolished by "implosion" at 8:32 AM on the morning of Sunday March 26, 2000 as shown in this sequence of photos. Over 50,000 tons of concrete and steel came crashing down from heights up to 250 feet, causing the equivalent of a magnitude 2.3 earthquake, after two tons of explosives were used to fracture the roof and supporting columns. The Kingdome opened in 1976, and was in service for nearly 24 years. The demolition makes way for a new Seahawks football stadium expected to be completed in time for the 2002 season. Until then, the Seahawks will play their home games at the University of Washington's Husky Stadium. (The Seattle Mariners baseball team began playing in their new $500 million home, nearby Safeco Field, last summer.) The new stadium will cost over $400 million, in addition to the $200 million debt remaining on the Kingdome. If you visit Seattle, you will likely have to pay part of this huge expense in the form of hotel and car rental taxes. (Taxation without representation, I say!)
Every other frame shown. The larger versions of these images have been removed to conserve disk space. If you would like to see some of the larger images, please let Eric know.
View from Alki in West Seattle.
Foreground: Elliott Bay, ships, container cranes, Alaskan Way Viaduct.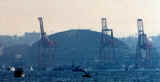 Frame 0 (before detonation)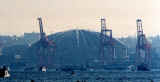 Frame 2 (detonation cords set off)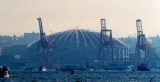 Frame 4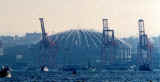 Frame 6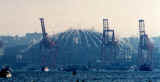 Frame 8
Frame 10 (roof collapse now under way)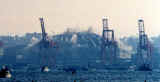 Frame 12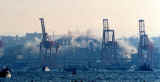 Frame 14 (Going ...)
Frame 16 (Going ...)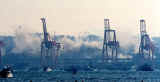 Frame 18 (Gone!)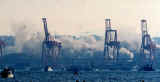 Frame 20 (and now the big dust cloud ...)
Frame 22 (the dust covered portions of downtown Seattle and required an extensive cleanup)