Eric's Cats
Current Cat

Maple (June 2010-)
Maple was adopted from the BrightSide Animal Center in Redmond, Oregon, in September 2018. He's Eric's first cat that is partially a long-hair breed. At age 9, he's not super-active, but does like to eat a lot of cat food from the little cans!
Former Cats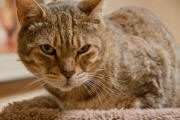 Mo (April 2002-September 2018)
Mo was adopted by Eric after the passing of Mario. He was large and energetic with a good appetite, but didn't go jumping around as much as Mario did, which was probably a good thing! And yes, he was part Bengal.
See more pictures of Mo!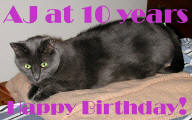 A.J. (August 1994-May 2011, named after famous race car driver A.J. Foyt)
She lived over one year longer than Mario, but is also sadly now gone. She was quiet and nice to have around for many years.
See more pictures of A.J.!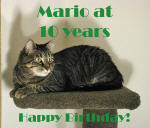 Mario (March 1995-December 2010, named after famous race car driver Mario Andretti)
All creatures only enjoy a limited number of "days in the sun," and Mario's days came to an end in 2010 after developing a serious form of cancer. He was always the active one and liked to check out everything you were doing!
See more pictures of Mario!