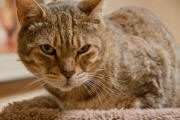 Mo (April 2002-)
Although now 15 years old, Mo was only adopted by Eric after the passing of Mario. Although large and energetic with a good appetite, he doesn't go jumping around as much as Mario did, which is probably a good thing!
And yes, he's part Bengal.
See more pictures of Mo!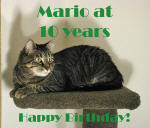 Mario (March 1995-December 2010, named after famous race car driver Mario Andretti)
All creatures only enjoy a limited number of "days in the sun," and Mario's days came to an end in 2010 after developing a serious form of cancer. He was always the active one and liked to check out everything you were doing!
See more pictures of Mario!